SALVUS invited to speak at the iFX Expo Dubai 2023
Salvus Team
For the past decade, the iFX Expo editions have been the leading B2B conferences for the FinTech ecosystem worldwide. Since 2012, the iFX Expo has exponentially grown to over 45,000 attendees by creating more than 20 remarkable expos hosted in Europe, Asia, and the Middle East. This is done towards the organisers' aim, of bringing together ambitious professionals and new or established brands within the FinTech space to create a unique networking and business-generating conference. Attendees are online trading firms, forex startups, challenger banks, Crypto-Asset Services Providers (CASP), Electronic Money Institutions (EMI), and other payment, crypto and investment services firms.
In this year's iFX Expo Dubai edition, our Risk & Compliance Director and Partner, Evdokia Pitsillidou, has been invited to share our expertise and knowledge on regulatory compliance alongside a distinguished panel of FinTech experts. The panel – Campfire session: Regulatory Framework Across Borders – will take place at the Idea Hub on the 17th of January between 14:00 – 14:35.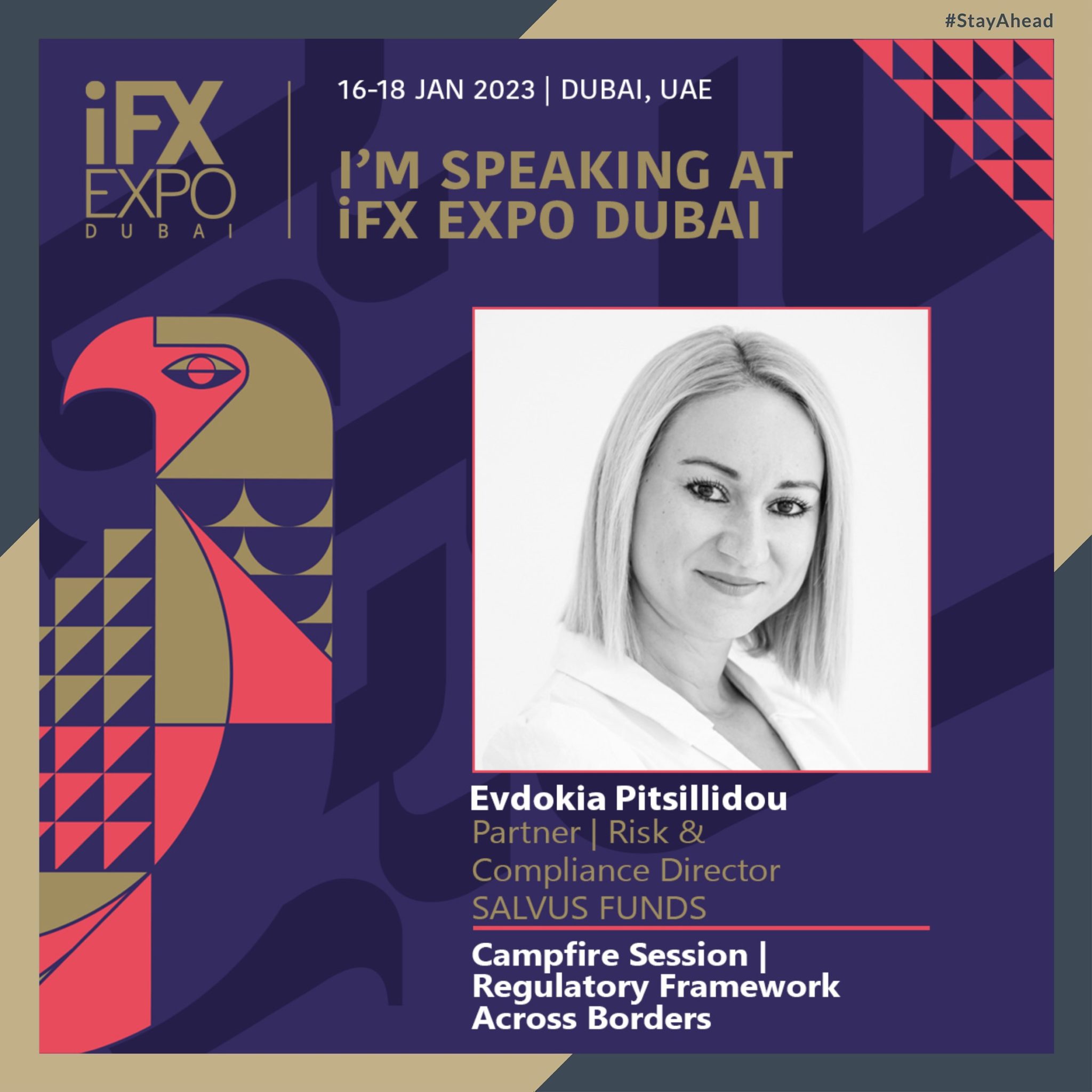 Evdokia and her panel will discuss the latest FinTech regulatory trends on RegTech, crypto, AML, compliance and more. The focus will be on the panellists sharing their experience and expertise on what brokers should keep in mind to meet the regulatory requirements of the Virtual Asset Regulatory Authority (VARA) in Dubai, the Financial Services Regulatory Authority (FSRA) in Abu Dhabi, and the Cyprus Securities and Exchange Commission (CySEC) in 2023. Our Risk & Compliance Director and her peers, as regulatory experts, will educate the professional audience on how to navigate the increasingly demanding regulatory landscape.
Thank you to iFX Expo for the invitation to participate in this year's Dubai edition – we look forward to meeting clients, partners, and associates in Dubai.
Learn more about iFX Expo Dubai and register here.
If you would like to book a meeting with our team or find out more information about the iFX Expo Dubai, please contact us at info@salvusfunds.com; we look forward to being of value.

#StayAhead